At Co:cubed, we believe that innovation belongs everywhere within a large organization, and in a world in which the pace of change is only increasing, there's never been a more important time for corporate leaders across all functions and geographies to be helping their teams to adopt more efficient and more sustainable technologies. 
However, Corporate Innovation leaders can also feel quite isolated in their role. Far from having an organisation that is actively 'pulling' the latest technologies into the business units, innovation leaders often face resistance and push-back at all levels. 
To explore this topic further, we convened a group of innovation leaders from some of the world's largest organisations, including Citi Group, Sky, IMI Plc, the NHS and others. Discussions focused around how they engage their colleagues in innovation and create innovation movements within their corporations, and each participant offered practical advice which we believe could be relevant to any large organisation. 
In a world where technological advancements are rapidly accelerating, the pressure to innovate has never been greater. According to a report by McKinsey, companies that prioritize innovation and digital transformation achieve revenue growth at twice the rate of their industry peers and deliver returns to shareholders five times higher. However, despite the benefits of innovation, many corporate leaders face push-back and resistance at all levels. So, what are the keys to successfully creating an innovation culture within a large organization?
Mark Janes, the Head of Community at Co:cubed, presented the "Co:cubed Commitment Curve," a framework for helping internal audiences move from being detractors or ambivalent about innovation to becoming active champions. The challenge, as pointed out by Anthony Palmer, is that corporates often evolve through a series of short-term decisions that drive long-term impact, making it challenging to move organizational mindsets beyond short-termism. Senior-level support is crucial to creating space and giving permission for innovation.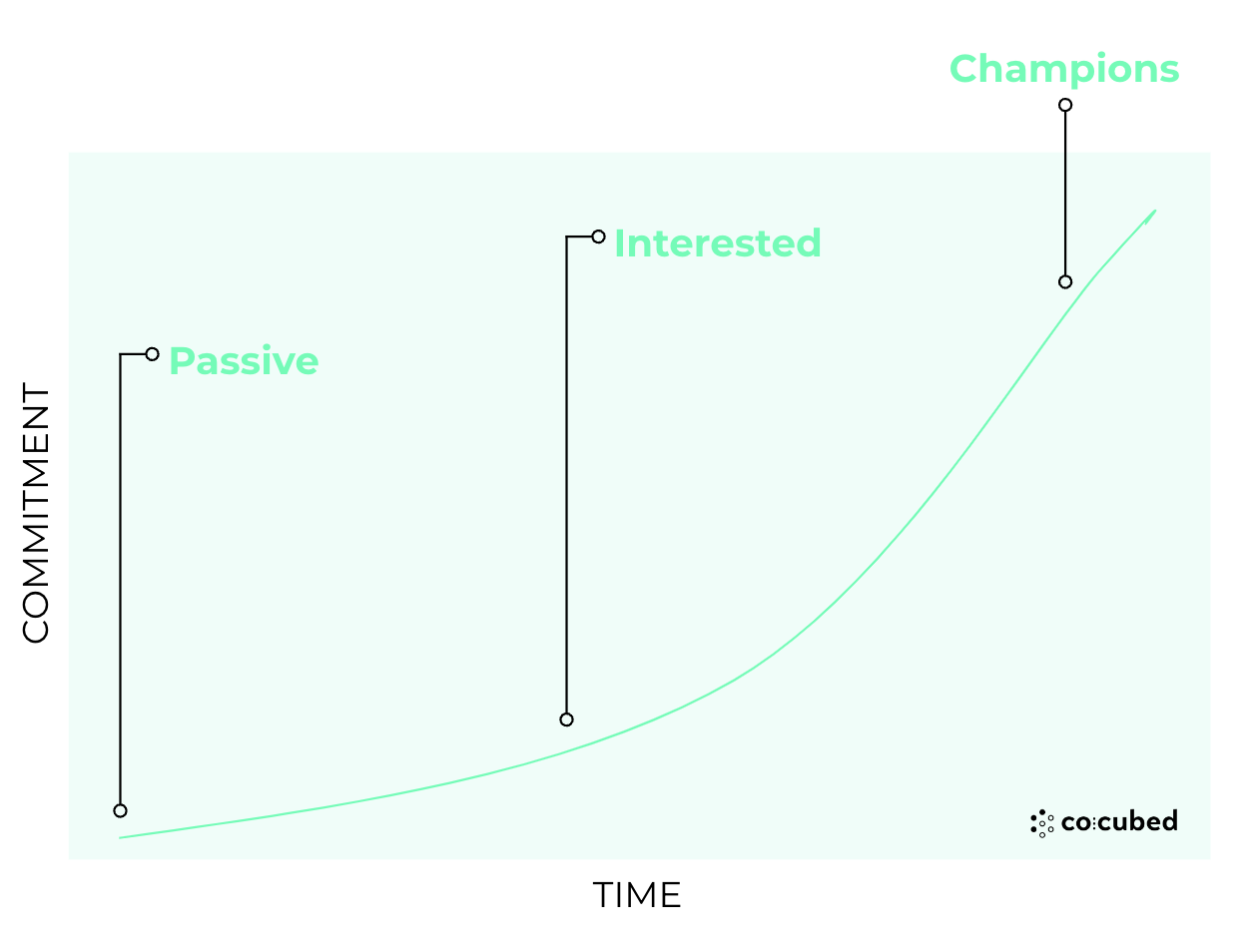 One key takeaway was the importance of putting the consumer at the heart of every innovation decision, as highlighted by Palmer. This means understanding real consumer needs and starting with the problem, rather than simply focusing on technical and functional solutions. A recent report by Accenture showed that consumer needs have shifted significantly due to the pandemic, with many people prioritizing safety, sustainability, and social responsibility. Therefore, it is crucial to keep a pulse on changing consumer needs and adapt innovation strategies accordingly.
Another challenge identified was the difficulty of overcoming short-termism within corporate decision-making. Companies that prioritise short-term gains over long-term strategy may experience short-term success, but they risk sacrificing long-term growth and profitability. A study by Harvard Business Review found that firms that prioritise long-term strategy outperform their peers in terms of revenue growth and profitability.
While long-term perspectives are critical, securing quick wins are often critical to the survival of the innovation team and their ability to drive an innovation culture. These early successes build momentum and confidence in the innovation agenda, providing space for long-term transformation. Additionally, innovation leaders should be aware that innovation takes time and does not always succeed. As a result, it's essential to have a pipeline of opportunities constantly being replenished, ensuring that the innovation funnel is full. Palmer also shared how leveraging existing partnerships with startups can help save significant amounts of time and money in the development process. In fact, according to research by Startup Genome, companies that partner with startups grow 3.5 times faster than those that do not.
Sky Labs' Rose Tighe shared insights from an employee survey on Innovation, which revealed that creating moments for innovation is crucial for unblocking space in the organisation. The survey also showed that the primary challenge for getting employees to engage in innovation was having time, permission and tools to innovate. According to a recent study by Harvard Business Review, time constraints are one of the most significant barriers to innovation, with employees struggling to balance their day-to-day responsibilities with innovation initiatives. 
Sky's research also highlighted a gender difference in how employees want to engage with innovation, with men more likely to join innovation initiatives or programmes, while women were happier to learn as part of their role. Understanding different needs can help design more inclusive innovation programs that engage all employees. 
Across the corporates represented, there was broad-based agreement that the biggest challenge to scaling innovation often comes from mid-to-senior level management, referred to as the "permafrost" in an organization who see innovation as a distraction from delivering results. This highlights the need for leadership to communicate the importance of innovation and its potential impact on the organization's long-term success. 
Victor Alexiev, who leads Venture Incubation at Citi shared insights on driving commercial impact and securing strategic alignment by embedding corporate venture teams within business units, rather than keeping them separated. A recent report by Gartner shows that 80% of innovation projects fail to deliver the expected return on investment, often due to a lack of connectivity to the core business. Alexiev also advocated for a balanced portfolio between near- and long-term wins to consistently deliver recognisable value, which can help build momentum and demonstrate the commercial validity of innovation initiatives.
In conclusion, creating a culture of innovation is essential for long-term growth and success in today's rapidly changing business environment. By prioritising customer-centric solutions, securing quick wins, and creating opportunities for innovation, companies can overcome resistance to innovation and achieve significant financial returns. In today's rapidly changing world, innovation leaders have an opportunity and a responsibility to embed a more systematic approach to engage their colleagues around innovation. While the road to successful innovation may be challenging, the potential rewards are transformative.